For those of you who still feel confused about where to go during this summer while in France, hopefully, this post might help you a little bit to get out of your confusion. Especially, for you who are probably living in Paris, other European countries, and wanted to take a short summer holiday in France, here are some things you can do while you are visiting ma belle ville (my beautiful town) Dieppe in Normandy.
Please take a look at all of the lists below and you can thank me later~
1. Take the touristic yellow train OR walk around the centre-ville of Dieppe: You choose!
If you are planning to go to Dieppe with your kids and too lazy to walk around, book your seat on the touristic yellow train! You can easily find this train and buy the train ticket for around EUR 7. The ticket box and the train located just beside the Tourism office with their signature bright yellow color. This train will take you around the main area of the center for around 45 minutes, which will starts from the port, Quai Henri IV, Boulevard Maréchal Foch (on Dieppe beachside), Square du Canada, hike until the Castle of Dieppe, where here you will have a quick stop above the cliff around 10 minutes to take pictures around and enjoy the Dieppe view from the cliff~ then after, the train will take you back to go to downtown en centre-ville! Pass by the church of Saint-Remy, the signature restaurant of Dieppe called Cafe des Tribunaux, Dieppe Ville d'art et d'histoire areas, the famous fishing port, etc.
But if you choose to walk, you can start from the Tourism Office, Quai Henri IV, Dieppe beachside, hike to the Dieppe castle-museum, Rue de la Barre, Grand Rue, the church of Saint-Jacques and return to the Tourism Office. With the total route around 4 kilometers or for about 1-2 hours depending on your walking pace~
2. Get-to-know all of the old churches of Dieppe
There are at least 3 famous churches located in Dieppe; the church of Saint-Jacques, the church of Saint-Remy, and the one located just above the cliff which called the chapel of Notre-Dame de Bonsecours. The church of Saint-Jacques was built in 1283~ this church is the oldest and the biggest church in Dieppe. Meanwhile, the church of Saint-Remy was built in the 16th century, and its remarks the second great church of Dieppe which has a Gothic-Renaissance style. Last but not least, the chapel of Notre-Dame de Bonsecours where you can definitely see it from the Dieppe port. If you want to go there, you have to walk across the port to the Pollet quartier and was built in 1876 for sailors who died at sea.
3. Visit the castle museum of Dieppe: view from the cliff!
The castle of Dieppe is one of the main attractions and a must-place to visit in Dieppe. It was built in the 14th century, this castle has been evolved a lot over the centuries. Starts from being a fortress, a residence, a barracks, a prison, and it finally becoming a museum in 1923 until now. Besides they have a permanent exposition, they also have a temporary exposition which you can visit during your visit to Dieppe. The ticket price around EUR 5 for adult visitors and a free ticket for people under 25 years old, students, and job seekers~
4. Book your seat on a 45-minutes boat tour: Explore the English channel
After exploring Dieppe by the land, now you can also explore the English Channel or La Manche sea by the Navigation Normande boat. Book your seat for around EUR 12/adult and EUR 8,5/children. You can enjoy the Dieppe view from the port, pass by the Transmanche ferry terminal, point of the pier (la jetée), boating along the Dieppe beach until the Pourville beach. For a better experience, you can also try to sit just on the front deck for a better view and get some splash~
5. Kayak along the Dieppe beach until the Pourville beach
There are plenty of water sports that you can do on the beach, such as windsurfing, sea kayaking, catamaran, dinghy, stand up paddle, and so on where you can check the schedule and further information directly on this website~
6. Sunbath, swim or lire à la plage?  Bienvenue à la plage de Dieppe~

In Dieppe beach, you can actually do a lot of things~ from swimming, doing kayak or other water sports, relaxing while sunbathing, picnic with your loved ones, and read in the cabins 'Lire à la Plage'! It is included in one of the programs of the department of Seine-Maritime to fight against illiteracy, which will start open for the public from the 4th of July to 30 August, 2021. For further info, please check here.
7. Buy your souvenirs at the souvenir shop in Grand Rue or along Dieppe beachside

There are a lot of things where you can buy souvenirs which you can bring back to your home (or home country) where you lived. In Dieppe, we have several typical local products which pretty famous, such as; apple caramel, apple cider, local beers brand, flan Dieppois, herring fishes, chocolates, starfish pastry, and many more.
Besides, along the beach, you can also find easily the cabin that sells souvenir shops, like t-shirt, postcards, magnetic, dolls, etc, which also you can find in small souvenir shops in Grand Rue.
8. Stroll around in our most beautiful weekend market in the whole of France
If in any chance, you will be in Dieppe on Saturday, please make a visit to our famous and beautiful weekend market! As Dieppois, we are very proud of our weekend market ((even more)) after we won as the plus beau marché en France en 2020 (the most beautiful market in France in 2020)~ Starts from Grand Rue, Place Nationale, Rue de la Boucherie, Rue Saint-Jacques, and Rue de la Barre, you can find local food products, items of clothing, flea market, and many more.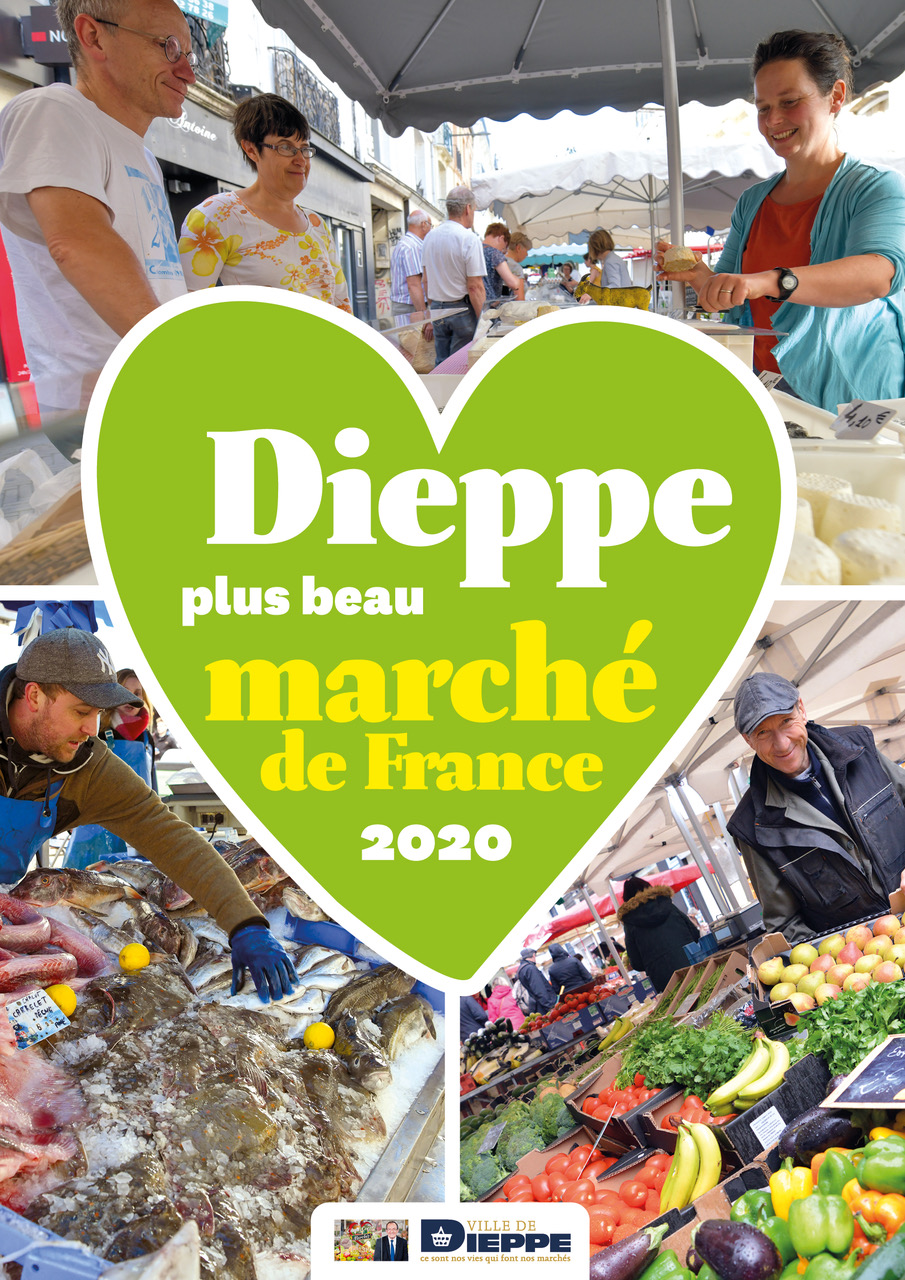 9. Enjoy your dinner and drink at the bar or cafe at the port before sunset
Finally… after looooong day of discovering Dieppe, now, you can choose where you will spend your evening with your loved ones in our best cafes and restaurants along the Quai Henri street~ I will suggest booking your seat first in advance (especially on the weekends), in any case, all of the restaurants will be full of people craving for the best Normandy specialties.
Notes: If you want to share my maps and pictures, please tag me on my Instagram account: @byastrid.fr and do not re-use, re-publish or share it for commercial use without my consent. Thanks!